Shockwave Therapy in Centennial, CO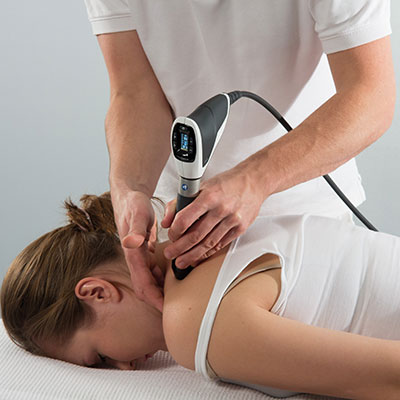 If you're seeking relief from acute or chronic musculoskeletal pain, such as tendinopathies and trigger points, we offer a modern and effective solution: Extracorporeal Pulse Activation Technology (EPAT®), more commonly referred to as shockwave therapy.
How Does It Work?
Shockwave therapy, an FDA-cleared non-invasive treatment, utilizes pressure waves to boost metabolism, improve blood flow, and expedite the healing process. "Through sound waves, EPAT creates a pulsing surge through the injured tissue, which helps bring circulation into the tissue to reduce pain and promote healing," said Dr. Ryan, who administers the therapy using a handheld instrument.
NEW CLIENTS

Conditions It Can Address
Shockwave therapy can be used to treat the neck, shoulders, back and chest, upper and lower extremities, feet and ankles, and myofascial trigger points. Here are some specific conditions that respond favorably to EPAT:
Achilles tendonitis
Frozen shoulder
Plantar fasciitis
Tendonitis
Tennis elbow
Carpal tunnel
Trigger finger
TMJ
Shin splints

Frequently Asked Questions
How long does the treatment take?
On average, each session takes about 15 minutes.
How many sessions will I need?
On average, we recommend five treatments. Typically, people experience significant relief after three sessions, if not less, but we usually recommend coming in once a week for four to five weeks to get the therapy started.
You may experience temporary mild soreness while getting treatment, but most patients report very few side effects afterwards.
As every person responds differently to treatment, we don't guarantee results. However, on average 80% of patients treated report to be pain free or have significant pain reduction after 4-5 sessions.

Shockwave Therapy Centennial, CO | (720) 542-8548