Massage Therapy In Centennial, CO
What To Expect From Your First Massage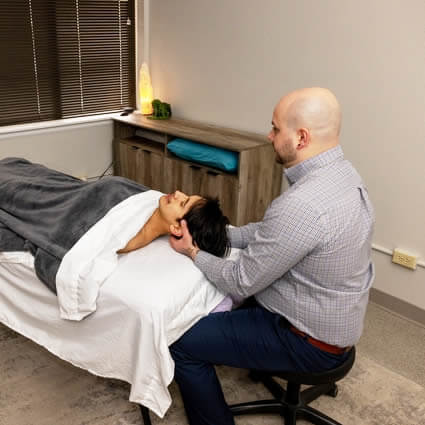 At the start of your massage, Kegan will go over the purpose of your visit, and ask questions relating to your issues. After this initial conversation, a brief treatment plan will be discussed, and what the best approach is for you. Kegan will then exit the room, so you can undress and get on the massage table. After a quick assessment of the areas of complaint, the massage will begin.
While being treated, an examination of the muscle quality and joint movement will be performed. Any muscular or skeletal issues will be brought to your attention, as well as an explanation of how and why techniques are used. At the conclusion of your session, a treatment plan will be discussed and a recommendation for future care at Spine Body Collective will be given to you.
We encourage all of our clients to ask us any questions or express any concerns to us before, during and at the end of a session.
NEW CLIENTS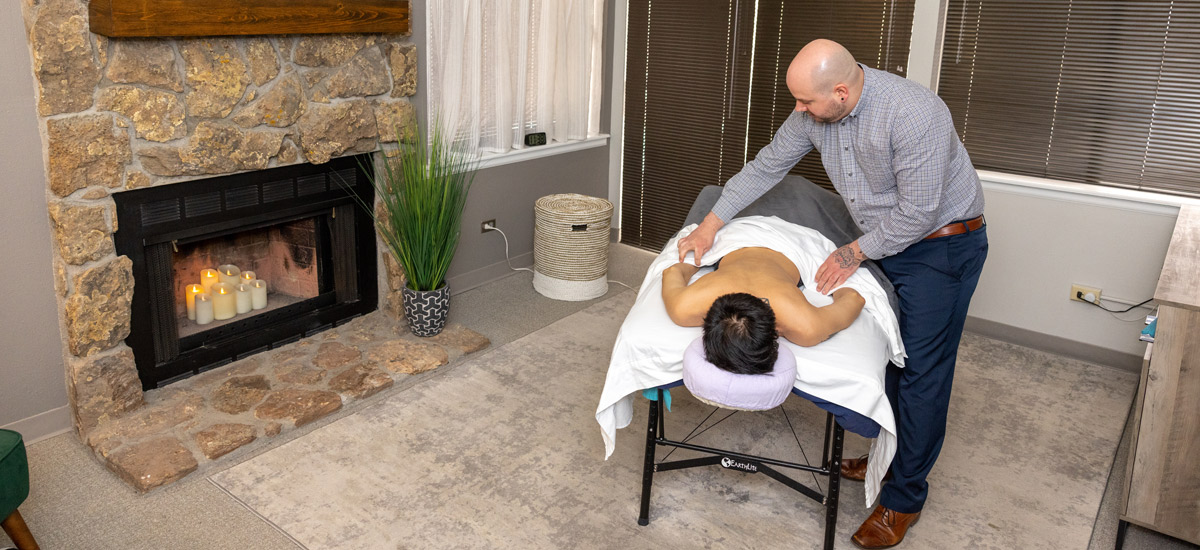 Massage and Bodywork Services
There are many different styles and techniques in the massage and bodywork industry. At Spine Body Collective we believe in being fluid with our approach and base treatments off findings during a session. Often, a combination of techniques is used during a massage. We broke down some common terms for massage types to help you understand what the best approach for your body might be.



What are the Benefits of Massage and Bodywork?
When the body is tense and under stress, it is unhealthy. Some well-known stress signs are excessive tiredness, pain, and headaches. Lesser-known stress signs are loss of appetite, irritability and decreased digestive function. Bodywork and Massage Therapy has been shown to decrease muscle tension in the body. This enables the body to enter recovery mode. Massage also triggers lasting feelings of relaxation, improved mood, and reduced overall stress.
Not only can Massage Therapy help with stress relief, but regular treatments over a prolonged period boost energy, reduce pain and stimulate individuals on physical and emotional levels. This is one of the most important aspects of massage for not only office workers, but also students and athletes. The daily grind takes a hefty toll on the body and mind.
Regular Massage Therapy has been found to reduce blood pressure levels. In turn, lower blood pressure levels can also reduce the risk of heart attack, stroke, and/or kidney failure, as well as many other health issues. Consistent Massage also reduces anxiety, hostility, tension, and depression. Studies suggest that Massage and Bodywork can even help treat the physical and psychological symptoms of PTSD.
The purpose of Bodywork and Massage Therapy is to target the source of the body's pain by eliminating tense muscles, increasing flexibility, and providing relief to the affected muscles as well as the body as a whole. Massage also promotes circulation to the affected or injured muscles, which increases nutrients and oxygen to the damaged tissues. Massage and Bodywork promote improved mental health, pain management, and help to calm the Nervous System.
Improved circulation is an added effect that occurs in the body as a result of receiving regular massage. This is because proper circulation brings nutrient and oxygen-rich blood to damaged, stiff, and tense muscles, promoting healing.
Massage also improves circulation from the hands-on pressure, which moves the blood through the damaged and congested areas of the body. The release of this same pressure causes new blood to flow into tissues. Many massage techniques also remove lactic acid and cellular waste from the muscle fibers. As a result, this action improves the lymph fluid circulation, which carries metabolic waste products away from internal organs and muscles and improves overall body function.
Many Americans experience back, neck, and muscle pain. One of the causes of this pain is poor posture. Chronic back pain is often the result of incorrect or poor posture while standing and/or sitting. Repetitive motion or overuse also contributes to the strain on the back and other potential problem areas. As a result, the added strain often causes spasms, pain, and tense muscles in the hips, glutes, back, neck, and legs.
Bodywork and Massage help get the body back into proper alignment. Improving posture is of the most beneficial and relaxing aspects of Massage. Massage allows the body to relax and loosen the muscles made tense and sore via bad posture. This allows the body to position itself in its organic and pain-free posture. As part of a consistent massage and bodywork program, the muscles are loosened, the joints have a greater range of motion, and pressure points are relieved. As a result, the body can position itself in a healthier posture. In short, Massage and Bodywork help to correct the bad holding patterns developed over time as a response to pain.
Regular massage provides many benefits to the human body. It is a well-known fact that individuals who experience high levels of stress are more vulnerable to illness and injury. When stress is combined with poor nutrition and sleep, the impact is directed at the immune system. Its ability to naturally protect itself against infections, pathogens, and bacteria is greatly reduced. Studies have indicated that regular massage can boost the immune system and enhances the body's ability to deliver nourishment. Much like regular exercise can keep the body fine-tuned, regular massage therapy can help keep the immune system strong and resilient.
Pricing
The cost for massage and bodywork sessions with Kegan are the same for all modalities. Prices include time for consultation and treatment.
60 min: $100
90 min: $150
120 min: $200
60, 90 and 120 minute treatments can be purchased in packages of 5 and 10.
60 min packages: 5 for $475, 10 for $900
90 min packages: 5 for $725, 10 for $1400
120 min packages: none currently available
Frequently Asked Questions
Should I get a massage when I'm injured?
Absolutely, but timing is everything. If you have been recently injured and are tender to the touch wait until the tenderness subsides and you're more comfortable. Massage has been proven to reduce recovery time and increase healing.
Should a Deep Tissue massage be painful?
Some areas are inherently tender based on location and function, but that doesn't mean you should be in tears during your treatment. Uncomfortable is ok but we don't want painful. On a scale of 1-10, 10 being the worst, its most effective to be around a 5-6. Be sure to communicate with your massage therapist.
How often should I get a massage?
Depends on what your wellness goals are. If you are working with a current injury or chronic issue, at least once a week until you feel better. A maintenance schedule is usually 1 visit every 3-4 weeks. Regardless what your treatment goals are, everyone should get a treatment a month. Imagine all the hard work and stress the body goes through over 30 days get at least one treatment a month. Don't let it build up for too long and become a serious issue.
How much clothing should be removed for a massage?
This is entirely up to the client's preference and comfort. Some techniques can be applied over clothing some cannot. Communication is key here. If you feel safer leaving something on, leave it on. During a massage the client is covered with a sheet and only the part of the body that is being treated is uncovered and draped. If there is an area of the body you do not want worked on, tell your therapist. Easy as that.
Does massage only work on the neck and back?
Massage not only treats the neck and back, but the rest of the muscles and joints as well. Spine Body Collective frequently sees clients for knee, elbow, hand and foot related problems.
Is it normal to be sore after a massage?
Yes. Muscles and other soft tissues don't like change. One of the muscular system's primary function is to keep the body safe. Trying to get a tight muscle to release sometimes causes tenderness. There are varying degrees of soreness, but make sure to stay hydrated and use heat or ice appropriately to mitigate the length of soreness. With continued treatment the soreness should decrease.
Is it better to do a longer session less frequently than a shorter one more often?
A lot of bodywork can be accomplished in two hours, but all the research indicates that the frequency of massage is where the benefits are. Spine Body Collective recommends coming in for an hour every two weeks rather than a 2 hour once a month.
Contact Us
Reach out to us today to schedule an appointment.
CONTACT US

Massage Therapy Centennial, CO | (720) 542-8548